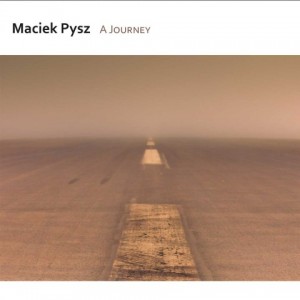 Polish guitarist Maciek Pysz started to write the material for his sophomore album in Italy and imagined the music "more as a soundtrack for a journey…". He teamed up with bandoneon player Daniele di Bonaventura and the mix of classical guitar and the bandoneon is indeed magical. As can be heard on the beautiful opening track "Fresh Look"; it gives the music that special, light and airy, insouciant touch.
And the beauty continues on "Water Streets", where guitar and bandoneon mesh perfectly and Asaf Sirkis creates tickling nuances with his drum sticks. There are some Pat Metheny aesthetics as well on this particular track, one of the highlights of the album I think. Maciek's sound is constantly clean and crisp, whether he plays acoustic or classical.
And Daniele can also be heard on piano, like on the very lyrical and romantic "I Saw You Again" which later has some fire and oomph in an exciting solo by the leader. There is a tender interplay between bassist Yuri Goloubev and Maciek on "Story Of A Story", before the piano sets in to make way for another haunting melody. The self-taught Maciek who now lives in London, continues his journey to "Paris", another highly imaginative cut with percussive undertones and a comfortable approach. Very French.
One of his influences is guitarist Ralph Towner. Towner's "Innocente" (recorded with the group Oregon for the 1987 ECM release "Ecotopia") is more like a dance between bandoneon and guitar. And there is a welcome suspense on the startling "Undeniable", the longest track here with over eight minutes with more of those Pat Metheny-like melodic fragments and very linear story-telling. Turns out very nice.
More mesmerizing compositions follow on this 12-track album: "Until Next Time" boasts with  some delightful harmonic playing and the mood gets soulful on the softly grooving "Always On The Move". "Peacefully Waiting" with its dreamy piano also has the quality to make this a long-lasting effort and with flamenco touches on "Desert" and the charming "Coming Home", this impressive album is indeed a most pleasurable journey.