Ann Hampton Callaway – Finding Beauty – Originals, Volume 1
There is a lot to love about singer Ann Hampton Callaway. Her rich and sumptuous voice, her vast repertoire (songs of Peggy Lee, Ella Fitzgerald, movie themes…), her never ending tour dates (she seems to be out on the road all the time). And then there is her ability to write magnificent songs, which have been recorded by Barbra Streisand, Liza Minnelli, Blossom Dearie, and so many more. Most of them have the quality of becoming future standards. She always added one or two of her own songs to many of her albums, but finally has come up with a set of all original tunes.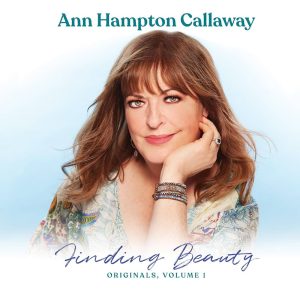 The title track, "Finding Beauty", was first recorded for her 2009 album "At Last". She dedicates the song to her partner who must be deeply affected since it is one of the most beautiful love songs. The album was produced by Trey Henry and Paul Viapiano. And it features guest singers Kurt Elling, Tierney Sutton, Niki Harris, Melissa Manchester, Jarrett Johnson, and her sister Liz Callaway. "You Can't Rush Spring", originally recorded for her 1994 album "Bring Back Romance" and beautifully covered by singer Karrin Allyson on her 1997 album "Daydream", has Ann and Tierney in a miraculously whimsical and tender mood. "At The Same Time", recorded by Barbra Streisand for her "Higher Ground" album, is one of those timeless pop songs, full of bliss and empathy. Some of the pieces actually veer towards kitsch, but only touching it lightly, like on the duet with her sister, "Wherever You Are", or "Love And Let Love" with Kurt Elling.
I really like the album opener "The Moon Is A Kite", reminding you that here is a serious storyteller at work. There is this really precious melancholy and vulnerability on the heartbreaking "Look For The Love" and "Forever And A Day", written with the great Alan Bergman, is another wonderful collaboration. Full of beauty and gratitude. With sixteen tracks spread over 73 minutes, this is a pretty lengthy affair but thanks to the various duets thrown in, never gets tiring. Iconic singer Melissa Manchester graces the lushly executed "New Eyes" and Jarrett Johnson adds some soul and oomph to "Be The Light". Musicianship throughout is of the highest order with Christian Jacob, Josh Nelson and Jeff Babko on piano and keys, Trey Henry on bass, Ray Brinker on drums, Brian Kilgore on percussion, and Paul Viapiano on guitar.
The biggest surprise for me here, and worth the trip alone, is a tune Ann co-wrote with Tony-nominated composer Dan Levine: "Stealin' Away" brings back memories of the lustrous, sexy Dionne Warwick album "Dionne" from 1979, with music by Isaac Hayes and Barry Manilow and orchestrations by Gene Page. The song was penned for Al Jarreau, but he didn't live to record it. Ann please, we would love to hear more of this from you in the future. It is the perfect match. Ann closes the album with one of her first original songs she recorded back on her first album in 1992. Romance abounds on "Perfect", including a sizzling violin, wrapping up her most compelling album to date. PS: no vinyl!