Mamas Gun – Cure The Jones
We've been living with this album for a few weeks now and still can't get enough of it. "Cure The Jones", the group's sixth album, to be released on Légère Recordings this Friday, opens with the amazingly sophisticated "When You Stole The Sun From The Sky" with the trademark harmony vocals from the group and Andy Platts showing off his skills as a brilliant soul singer and songwriter. Actually, this is one of the very few records with absolutely no lame track on it. You can really listen to the full album without having to skip a single track. Two tracks have been circling around for a couple of weeks, like the funky "Looking For Moses", a nod to Bill Withers who was the inspiration behind this sexy piece, written on the day of Bill's passing.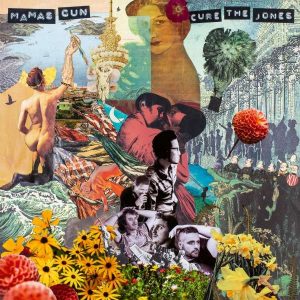 The other track is "Party For One", a Sly Stone-inspired party track with tight vocals and a bass line to die for. For me, the vocal parts really make my day each time I listen to this masterpiece, even more so than the wicked bass. The percussion towards the end reminds me of the first One Way featuring Al Hudson LP from 1979. Latest single is "Good Love", a sort of tribute to 70s soul classics from the likes of Philadelphia International Records, with Andy's falsetto working excitingly. I really dig the Marvin Gaye-styled "Go Through It", another midtempo gem and pure delight. Band members Dave Oliver (keys), Terry Lewis (g), Cameron Dawson (b), and Chris Boot (dr) chime in again on vocals, as they do on most of the tracks. From the beautiful ballad "Reconsider" to the driving, impulsive "From Friends To Lovers".
Smokey Robinson & The Miracles are transported to 2022 on "You're Too Hip (For Me Baby)" and the title track is another crazily infectious soul piece, once again with haunting backing vocals. There is a lot of hope and joy on "Winner's Eyes", a sort of AOR club tune reminiscent of some of the best work by Hall & Oates. Pure bliss. Like the fantastically meandering vocals by Andy Platts on the beautiful album closer "Daffodils". We're still in love though with "Party For One", our song of the year so far. The group recently played tracks from this, easily their best album to date, in Berlin so please make sure to check them out during their tour:
April 7 – Nijmegen, Doornroosje
April 8 – Eindhoven, Effenaar
April 9 – Utrecht, Tivoli Vredenburg
May 5 – Madrid, Cafe Berlin
May 6 – Barcelona, Jamboree Jazz Club
June 2 – Manchester, The Bread Shed
June 3 – Glasgow, Audio
June 4 – Birmingham, The Dark Horse
June 14 – Cologne, Helios 37
June 15 – Hamburg, Nochtspeicher
June 16 – Frankfurt, Brotfabrik
June 17 – Munich, Ampere
June 18 – Erfurt, Franz Mehlhose