Matthew Kaminski Quartet – Live at Churchill Grounds
Matthew Kaminski, Hammond organist from Atlanta, opens his new live set with a Brian Wilson tune: "Sail On Sailor" is a solid, soulful, blues-inflected showcase of his forceful and sometimes exuberant style and has an effective tenor sax solo by Will Scruggs, too. Lou Donaldson's "Hot Dog", originally from Lou's 1969 Blue Note LP of the same name, had Charles Earland on organ and here, the boogie-style nature of the track is resurrected with aplomb and power, including a sharp and tasty solo by the leader and cutely framing guitar work by Rod Harris, Jr.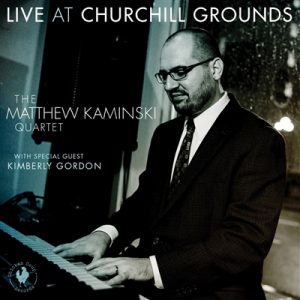 Another Blue Note staple is "Midnight Special", the 1961 Jimmy Smith classic which had Stanley Turrentine on sax and Kenny Burrell on guitar. It's a really swinging affair throughout the 9-minute plus interpretation here. Vocalist Kimberly Gordon joins the group on the standard "If I Had You", executing too much vibrato for my taste and I also have the feeling that her voice wasn't recorded properly – there is a certain reverb in the room.
Ms. Gordon also doesn't really enhance the Jobim classic "So Danco Samba", but Matthew comes up here with different sounds from his monster instrument and makes it a fun piece altogether. Ms. Gordon's display of "Just Squeeze Me" is simply too pitchy for me but again, the leader saves it all with his inventive and soulful approach. You can hear the Sarah Vaughan influences on "It Shouldn't Happen To A Dream", and yes it is a bit unfair but I can't help comparing tunes like this with what I think are the definitive versions. Listen to Sarah's perfect rendition on her 1955 LP "In The Land Of Hi-Fi" and you get the drift. But it is indeed a nice change of pace here for the group which sounds completely at ease with the ballad.
The pitch aspect is probably most profound on the opening lines of "April In Paris". Matthew shines here by coming up with a pretty variegated rendering and saves this again. Peggy Lee's "I Love Being Here With You" is ruined by a distracting scat part which I just can not bear. And I do know that Kimberly's singing is much better than what we get from her here.
I much prefer the group without a singer. Best example is the Brother Jack McDuff swinger "A Real Goodun'", showcasing the group in real downhome style with each soloist coming up with solid work and cool ideas. I must say though that I'm not the biggest fan of live recordings.