From the late 80s to the beginning of the 00s, I've been lucky to be able to visit the prestigious Montreux Jazz Festival each year. There are so many precious moments to remember. Visits to founder Claude Nobs' chalet high above Lake Geneva, sipping cocktails and beer with such luminaries as George Benson, Andrae Crouch, Valerie Simpson, etc, while watching old footage from festivals of yesteryear. So many great interviews I did during soundcheck or somewhere outside along the beautiful shore. Unforgettable moments with Leon Ware, Terry Callier, Quincy Jones, George Duke, Claude himself, Patti Austin, the year the German jazz label ACT Music was born, Ahmad Jamal, and so many more too numerous to mention here. Amazing concert performances like one of the last Miles Davis concerts with Quincy conducting, or exceptionally beautiful Brazilian nights. Those were the halcyon days.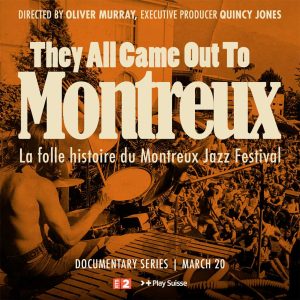 Now, BMG Films, Beyond TNC, Radio Télévision Suisse, Montreux Sounds & Montreux Media Ventures present "They All Came out to Montreux", a documentary mini-series on the extraordinary story of Claude Nobs and the Montreux Jazz Festival. The three episodes will have their world premiere on March 20th on RTS 2, and after that it will be available online at PlaySuisse.
I'm really looking forward to this since there will be snippets of 30 performances and 40 testimonials of artists like David Bowie, Ray Charles, Miles Davis, Deep Purple, Aretha Franklin, Gilberto Gil, Buddy Guy, Herbie Hancock, Alicia Keys, Questlove, Quincy Jones, John Mclaughlin, Marcus Miller, Prince, Rag'n'Bone Man, Keith Richards, Carlos Santana, Nina Simone, Sting, Shania Twain, Jack White and many more.
Directed by Oliver Murray, "the documentary tells the story of Claude's journey from his childhood and the challenges he had to face in a society often hostile to his projects and his personality, considered too different at the time.  Narrated by a host of artists, relatives and sometimes by Claude himself, the series paints a portrait of an extraordinary and visionary character." In the meantime, have a look at the trailer right here.