Music Is Our Healing – Get Well Chaka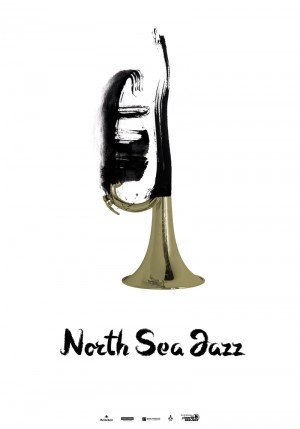 "Music Is Our Healing. It's our spiritual language", said legendary pianist Randy Weston during his duo appearance with the equally impressive Billy Harper at last night's performance in the Madeira hall at the North Sea Jazz Festival. Randy Weston, now 89, very early in his career incorporated the rhythms of Africa, most prominently those of the Gnawa ethnic group in Morocco, into his own music. And you could still feel his very percussive and virile touch on pieces like his own "Blue Moses" (from his 1972 CTI LP of the same name where he played electric keyboards), but also in deconstructed Billy Strayhorn numbers. Mr. Harper, now 72, has lost none of his gospelly, bluesy, and wailing tone evident in pieces like "The Healers". It was a great start into the second night here which turned out to be a pretty mixed affair.
The omni-present Brian Blade, who was seen on the first night in the Joni Mitchell tribute concert and who also played last night in Wayne Shorter's quartet, had his own Fellowship Band playing in the Darling hall. The rich textures of his two horn players, Myron Walden on bass clarinet and alto sax and Melvin Butler on tenor sax, were a distinctive lesson in group interplay. Jon Cowherd on piano was all over the place, but sometimes you didn't even realize that he was there – his own contributions being a perfect backdrop for the group's sound, sometimes with minimal approach, at others pushing more towards the next level, but never over-indulging. Chris Thomas rounded out this brilliant group on bass and in the midst of it all, the always smiling Brian Blade who steered his ship with clear requirements, but let his band take detours as well.
I had the feeling that this second night was much more crowded since a lot of times, I saw the word "Full" on the various screens inside the building. In between sets, I ran across the Nile, the Festival's biggest hall where the big-name, often pop or Soul acts, are programmed. And to my surprise, there was a Dutch group there as the first act called Jett Rebel, fronted by singer Jelte Tuinstra. What he did with Stevie Wonder's "Black Man" and "Love's In Need Of Love Today" was a disgrace, a shockingly amateurish, way below average performance and a voice so thin that it reminded me of some Disney characters. And what a poor marketing joke to let him wear stockings which, by the way, didn't suit him at all.
But there are still enough quality acts around and Michael Kiwanuka, who made a great impression on the first night with his Joni Mitchell interpretations, is certainly one of them. Three years ago he had his debut here at the festival and pieces like "Tell Me A Tale" and "Home Again" (the title track from his debut) still resonate with much finesse. He also played a couple of tunes from his soon-to-be-released second album which promises to be another great collection of soul- and rock-inflected Singer/Songwriter tunes with deep impact. The fact that he's using two guitars (the other from Miles James), a bass (brilliant Pete Randall who also played the slide guitar on one track) and drums only (the equally superb Graham Godfrey), adds to the unique artistry of this London-born retro soul healing force.
While having another one of the really challenging Dutch beers, I went to see the start of Chaka Khan's performance and she brought her show to a close after the fourth song and left the stage in tears because she wasn't feeling so well. Now, don't get me wrong I'm the biggest Chaka fan since her Rufus days but back in 2009, she performed a set of Duke Ellington songs and other standards with George Duke and band where she was constantly off key, didn't know the words to some of the songs, and simply offered a poor performance. Two years later, in one of her shows with her own material, she let most of the vocal work left to her background singers because she couldn't hold the notes, ended phrases too abruptly and early, and didn't really sing.
"Made In Chicago" was the title for the set of four distinct members of the Chicago Avantgarde Jazz scene. Roscoe Mitchell, saxophonist, composer and one of the founders of the AACM, the Association for the Advancement of Creative Musicians in 1965, was a vital part of this group. As was drummer and percussionist Jack DeJohnette, who was part of the AACM as well and also Muhal Richard Abrams (another one of the founders), the pianist extraordinaire and bassist Larry Gray. The four Chicagoans (Abrams being the elder statesman at 84) celebrated the openness and free-flowing aspects of the AACM which later had offshoots in the Loft scene of 70s New York. DeJohnette sounded like two drummers, Mitchell delivered some amazing outbursts and the group's interplay was never detached, always in gear.
What's up for today? The final day brings Bill Frisell, Dianne Reeves, Kwabs, Rudresh Mahanthappa, a panel on Clark Terry with Dianne and Theo Croker, Melody Gardot, Branford Marsalis, and Roy Hargrove. Tot ziens.