New York With Roz, Duane, And Orrin
It was during Antonio Carlos Jobim's "Vivo Sonhando" where the full palette of Roz Corral's artistry came full circle: hers is a wonderfully vibrant and warm alto voice, her diction comes across as something pure and natural and her choice of repertoire is always a joy to experience. During her Sunday Brunch set at North Square off Washington Square Park, Roz had master bassist Jay Leonhart and pianist Josh Richman accompanying her for a well-balanced, highly entertaining set which also featured a vivid "Close Enough For Love", the Johnny Mandel/Paul Williams classic that became one of the standout tracks in Shirley Horn's repertoire.
She also included a swinging "Undecided" and a fancy version of "Sweet And Lovely" in her varied collection and asked singer Alexis Cole on stage to sing a solid, flawless interpretation of "I Thought About You". The North Square brunch is always a welcome and soothing getaway from the bustling streets.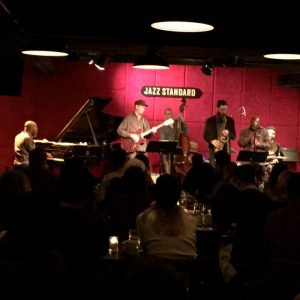 Later that day, pianist Orrin Evans played music from his recently released "#knowingishalfthebattle" album (see review on these pages) at Jazz Standard. Kurt Rosenwinkel played some effervescent solos, but never over-emphasized. Mark Whitfield, Jr. played some truly effective, subdued and often pretty elegant drum patterns and bassist Luques Curtis was on the spot and focussed all the way through. Caleb Wheeler Curtis played some fierce and powerful sax solos and it was during Grover Washington, Jr.'s "A Secret Place", where Orrin asked trumpeter Duane Eubanks to join the band on stage (check my review on his two latest albums here as well), when the whole band really was coming together as one, with Luque holding the piece together with his indelibly grounded bass work and Duane highlighting the track with a sensuous and soulful trumpet solo. A pretty well-rounded and coherent set, guarded by a self-effacing Orrin Evans who made this a worthwhile trip.
Follow:
Share: