Nicholas Payton Afro-Caribbean Mixtape at Dizzy's Club Coca-Cola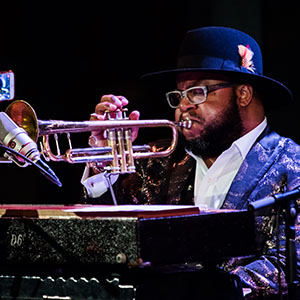 A Rhodes keyboard and a Hohner D6 Clavinet is all it takes to make me happy. And of course someone who is able to play them. Nicholas Payton was introducing music from his forthcoming release "Afro-Caribbean Mixtape" (out on February 10th) at Dizzy's Club Coca-Cola on Thursday night. And the continuous groove, sometimes swampy and rooted in Funk, sometimes gritty and rooted in Soul, always felt spot-on and in the moment.
It's where the music is growing and finding new paths; you don't want to hear another Louis Armstrong tribute, even though there is a pretty good dedication recorded by Nicholas back in 2001 which featured Dr. John and Dianne Reeves. But I think with the addition of hip-hop DJ Ladyfingaz and the use of keys and his own singing, this is what makes it all the more interesting and simply more exciting. His blazing quintet also featured Vicente Archer on bass, Joe Dyson on drums, and Daniel Sadownick on percussion, heavily accenting the soul-drenched groove cuts with assorted tools that sounded just perfect in the mix.
Also interpolating original audio material from interviews with Dizzy Gillespie for example, Nicholas has described the much-anticipated album as "a meditation on the resilience of black people and African culture". And I think he just nails it with the use of the equally meditative sounds of the Rhodes and the more praising, churchy character of the clavinet. It's been a pretty rewarding mix of different styles, but mostly staying true to the grits and gravy of soul, jazz, latin, funk, and some r&b.
Follow:
Share: