Terri Lyne Carrington at 50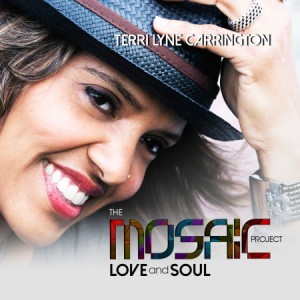 Happy birthday to one of the most dynamic and interesting drummers, composers and producers of our time: Terri Lyne Carrington celebrates the big 50 today and there is more to celebrate: a new album (which will be exceptional after the first quick listen to some of the songs) which will have a lot of fantastic guests and an amzing repertoire:
With "The Mosaic Project: Love And Soul", Terri continues her journey into the contemporary R&B, Jazz, and Soul world with an illustrious guest list including Natalie Cole ("Come Sunday"), Nancy Wilson, Oleta Adams (singing Luther's "For You To Love"), Patrice Rushen and Lizz Wright (new take of Patrice's "When I Found You"), Valerie Simpson (new take of her "Somebody Told A Lie"), Paula Cole and Regina Carter (on the Bill Withers classic "You Just Can't Smile It Away"), Jaguar Wright, Ledisi, Lalah Hathaway, Chanté Moore, and lots more. An extensive review follows here asap.
In the meantime, Gina wishes Terri all the best for her 50th.