Celebrating Rahsaan Roland Kirk at 3rd Rahsaanathon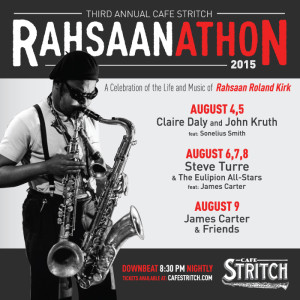 August 7th would have been Rahsaan Roland Kirk's 80th birthday. The original and highly influential saxophonist who was probably best known for his ability to play various instruments simultaneously, is feted at San José's 3rd Annual Rahsaanathon at Café Stritch.
His biographer John Kluth will open the celebrations when he joins New York-based baritone saxophonist Claire Daly. Joining them are ex-Kirk pianist Sonelius Smith, John Shifflett on bass and Howard Wiley on drums. The main part of the festival is a three-night event (August 6th-8th) featuring the great Steve Turre & The Eulipion All Stars which will feature James Carter on sax, stritch, clarinet, and flute and also poet Betty Neals. Joining them are Charles McNeal (alto sax, soprano sax, stritch), Matt Clark (piano), Marcus Shelby (bass), Darrell Green (drums), and Terrie Odabi (vocals).
The final night closing out the homage will feature James Carter and Friends paying tribute once again to this legendary pioneer. The first record I've ever heard in the late 80s was Rahsaan's 1967 LP "The Inflated Tear" which featured mainly his own compositions and established him as a composer. On the album, he played the manzello among numerous other instruments, a saxello with its curved neck and bigger-than-usual bell. I'm still enjoying his "Fly By Night" very much.
Café Stritch is the premier live jazz venue in San José and the South Bay and is located at 374 S 1st Street.