The Spinners – 1981 Revisited
The Spinners were an R&B vocal group from the Detroit area and were first known as the Domingoes. Discovered by producer and singer Harvey Fuqua, they started to record and perform as the Spinners (later they called themselves simply Spinners) in 1961 with their first charted single being "That's What Girls Are Made For" which reached Number 27 on the Billboard charts.
Over the decades, they changed their sound frequently, had a lot of personnel changes and recorded a string of hits in the 70s that have become classics. Produced and arranged by the magical Thom Bell, those hits included "I'll Be Around", "Could It Be I'm Falling In Love", "Then Came You" (with Dionne Warwick), "They Just Can't Stop It The (Games People Play)" and "The Rubberband Man".
G.C. Cameron was the lead singer from 1968-1972, Phillippe Wynne from 1972 to 1977, replaced by John Edwards. They also survived the disco era with their smash hits "Working My Way Back To You/Forgive Me, Girl" and "Cupid/I've Loved You For A Long Time" in 1980. And now, two of their albums from 1981 are available for the first time on one CD. "Labor Of Love", which reached Number 128 on the Billboard Top Pop Album charts, and "Can't Shake This Feelin'" (Number 196) show two different sides of the group,
"Can't Shake This Feelin'" was produced by James Mtume and Reggie Lucas who had a lot of success with Stephanie Mills, Mtume, and Phyllis Hyman at the time but didn't make any real impact with their Spinners album. It is a classic early 80s Mtume album with the regular musicians like Bernie Worrell on synths, Hubert Eaves and Dean Gant on keys, Marcus Miller on bass, and vocalists Tawatha Agee, Luther Vandross, Ullanda McCullough and Norma Jean Wright. Mellow and lush orchestrations like on the opener and title track or on "You Go Your Way (I'll Go Mine)" (written by Tawatha) alternate with funkier tunes like "Love Connection".
There is also an early version of Paul Laurence Jones' "Knack For Me", to be recorded in 1982 by Melba Moore, and a rework of "Didn't I Blow Your Mind This Time", a hit song by the Delfonics in 1970, also produced by their longtime Atlantic mastermind Thom Bell. (No version comes even close to the Norman Connors/Lisa Fischer rendition of this classic.) Other songs clearly profit from the timeless Vandross gang vocals ("Never Thought I'd Fall In Love", the only single from the album that reached the charts and stalled at Number 95). The five Spinners on these two albums are John Edwards, Henry Fambrough, Billy Henderson, Pervis Jackson, and Bobbie Smith. There are truly great songs which could have come from the "Stephanie" session with Ms Mills of the same year ("Send A Little Love"). "Love Is Such A Crazy Feeling" is an uplifting, happy-go-lucky little ditty with those inimitable background vocals and "Got To Be Love" ends in perfect Mtume/Lucas style. A still pretty cool and mesmerizing soul sound.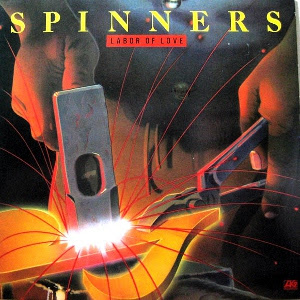 A different affair is "Labor Of Love", which was produced by Michael Zager and actually was released prior to the Mtume album. It sounds like a reminder of those halcyon disco days which, by the time of the release in the spring of 1981, had certainly reached their peak. The album featured a great horn section (Jerry Hey, Gary Grant, Larry Williams, Eddie Daniels, Ronnie Cuber etc), but doesn't really excite. "Standing On The Rock" sounds like a cheap Temptations clone, the only charted single, another medley ("Yesterday Once More/Nothing Remains The Same" peaked at Number 52) is a poor and trite disco attempt trying to copy their big hit from 1979/1980.
The ballads don't have an impact, either. "Almost All The Way To Love" is simply too boring. The standard "Be My Love" is unbelievable kitsch it almost hurts. Other songs just burble along, like "Give Your Lady What She Wants". There is even an attempt at rap, which had become the latest fad at the time, but simply sounds shite here "The Deacon"). But with "The Winter Of Our Love", they come up with a decent midtempo soul shuffler. Clearly, they should have stayed with Mtume/Lucas. Instead, they chose producer Freddie Perren for their next oeuvre, the 1982 "Grand Slam", which was their last chart entry until they later disappeared in the vast and strange world of the oldie touring circuit.