From Splitter To Splatter, From Pitter To Patter: Jazzfest Berlin Opening Night
The 24-piece Splitter Orchester opened this year's Jazzfest Berlin last night before a sold-out audience. The 45-minute piece "Creative Construction Set" was written by trombonist George Lewis and featured a strange, if somewhat entertaining mélange of several electronics and prepared field recordings with more traditional instruments like clarinet and violin, but played in alienated fashion, uncharacteristically, sometimes almost rude. At one time, the recorded words "unable to continue" hilariously escorted the procedures on stage.
Lewis directed the ensemble from the middle of the stage and the band members communicated with each other by holding up sheets of paper with directions. On the one hand, it was fascinating to realize that the group's sound was much more quiet than expected (with the occasional outburst), on the other there were longer stretches which reminded me of jungle sounds making this seem a bit too ambitious. I think it was a bold move to open the festival with the Splitter Orchester, but I left the concert with the feeling that there was something missing.
Maybe a singer? No, not really. In harsh contrast to the first act, Cécile McLorin Salvant followed with a set of standards and originals, played with her quartet, but without her pianist Aaron Diehl who had been announced in the festival programme. But anyway, there is a connection to Betty Carter here with Cécile's way of bending and stretching notes and abrupt phrasing, but it doesn't work on all the material I think. When she does "I Didn't Know What Time It Was", her intonation was more like the Sarah Vaughan kind, curiously echoing the story behind the song, but on the Burt Bacharach/Hal David song "Wives And Lovers", recorded by Dionne Warwick in 1965, the preposterous advices for married women may have applied to the mid 60s, but it is simply too obvious that they are not valid anymore and there is simply no need to perform this like a caricature (I bet a lot of women disagree…).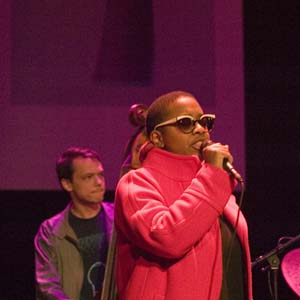 Cécile really sounded best on her own compositions, like the wonderful love song "Look At Me" or the mysterious "Fog", both from her current album "For One To Love" (see review on these pages). "John Henry", the tale of the African-American steel worker which is usually sung as a ballad and which she recorded for her "WomanChild" album, had her telling the story in classic work song style. And her take on "What A Little Moonlight Can Do" was witty, ecstatic, and sympathetic.
Rounding out the evening was French accordionist Vincent Peirani who had saxophonist Émile Parisien back in his group and with the bright and bubbling Fender Rhodes, played by Tony Paeleman, the group's impressively organic sound resembled the 70s Fusion style. The same personnel as on his last album "Living Being", they created a pretty dense and compact sound, concluding this well-balanced first night of the festival.