Verneri Pohjola – Bullhorn from Finland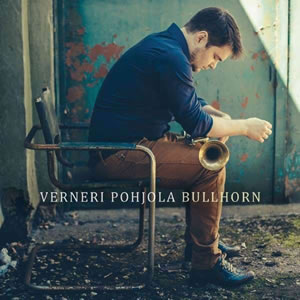 The Finnish trumpeter, son of famous bassist Pekka Pohjola, has come up with his new album "Bullhorn" on Edition Records. The ten self composed songs on the new album show the very lyrical side of Verneri and the undiluted way of improvising. He has ample help from his trio consisting of Aki Rissanen on piano (who displays wonderful touch and chops on the opener "Another Day"), Antti Lötjönen on bass, and Teppo Mäkynen on drums.
Additional spice comes from tenor saxophonist Jussi Kannaste, who helps define the weird world of the "Girls Of Costa Rica". "He Sleeps, I Keep Watch" is a composition that you might want to call typical for this part of Europe; wide open spaces, lugubrious, and gloomy only enhanced by the haunting trumpet. As for the title track, he picks up speed again and plays some rocking phrases, with added percussive playing from Rissanen.
After a very plush sounding "In La Borie" and a short trumpet and drum intermezzo on "This One Is For You", it's time again for some rough playing on "Nanomachines" where Verneri has some lucid chords and spots. "Ouroboros" is played with much confidence, alluring and engaging. And there is the distinctive sound again on "Cold Blooded", a very focussed composition with a story to tell.
This is anything but your average Nordic jazz album. Verneri has found a sincere, complete sound of his own. The album has added textures by Ilmari Pohjola on trombone and Iida-Vilhelmiina Laine on cello and fades out with a lushly executed "The End Is Nigh". Let's hope not.
The album launch concert is going to be at the Finnish National Theater in Helsinki on March 22nd. Verneri will also bring his quartet to the Elbjazz Festival in Hamburg on May 30th.
Follow:
Share: