Virginia Schenck Celebrates Abbey Lincoln
Everybody has his or her favorite Abbey Lincoln tune of course. And for me, there are dozens of it. So the question with interpreting the Abbey Lincoln songbook always has to be if the artist has something new to add to Abbey's timeless repertoire. Atlanta-based vocalist Virginia Schenck succeeds in most parts on her new album "Aminata Moseka: An Abbey Lincoln Tribute".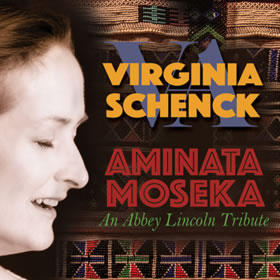 Abbey's music has a lot of faces: the angry political one, the sarcastic, the poetic, and the mystical. And Virginia gets to hint at all of them on her album, most convincingly on "Bird Alone" and "Wholly Earth", where she completely changes the arrangement to a thrillingly and groovy spiced-up version on the former, and a skillful interpretation on the latter which also has a beautiful piano and drum arrangement to it. Victoria's intrsument on both these tracks covers all territories and never really falls flat – always being aware of the meaning of the lyrics and never really into showing off. On "Bird Alone" she bravely manages to come up with her very own approach by taking the track to a new, forcing and surging level. I don't get the scat part during her "The Music Is The Magic" though, but I guess it's because I have never been a friend of scatting. It always sounds hopelessly trite to me (except when Ella does it).
Virginia is backed by a wonderful combo: Kevin Bales on piano, Rodney Jordan on bass, and Marlon Patton on drums with alto saxophonist Kebbi Williams helping her with all the honking and screeching sounds she wants to get across on "The River", a track Abbey recorded for her 1983 LP "Talking To The Sun" where she wanted to compare the LA traffic with the river of life. But the pointillistic and evocative stance that Frau Lincoln had inherited to the max is not really coming through on this rather arty sounding version.
But with most of the tunes, her tribute pays off. Her simplistic approach on "Another World" catches the beauty of the original and her flowing vocal inflections, backed by a sparse, highly imaginative arrangement where she duets with Rodney for the most part, shine through. Her way of saying "common ground" and her "whisper in my ear" really do sound substantial and intense. She later tends a tiny little bit towards a folksy tone which suits her well. One of the highlights of the album. "Caged Bird" is included in two versions: one with the poem by Maya Angelou and the other with lyrics by Abbey ("I Know Why The Caged Bird Sings"); the former too experimental for my taste and the latter with a couple of off the mark phrases.
There is a strong and solid version of "Being Me" with another much-needed emphasis on the lyrics of the song. Same applies for the majestic "Throw It Away", which has a bittersweet piano accompaniment and a stellar solo by Kevin Bales. I'm not that keen on hearing another "Blue Monk", but "When I'm Called Home" and its healing power puts everything back into focus.