Lots of great new music out there these days. We just received the new LP "Apart" by Allen Stone. It's his own personal lockdown album, so to say. Arrangements of tracks from his previous three albums totally stripped down, down to their core. Mostly highly vulnerable, tender, and oh so deep. From the grand opening "Unaware" (from his 2012 self-titled album), through a bittersweet duet with Alessia Cara on "Bed I Made", to the strong plea "Consider Me", coming through with a different light here, the album oozes understatement and class, depth and soul, similar to the recent Eddie Chacon and John Carroll Kirby LP (yes, Allen's album is out on vinyl too).
Speaking of stripped-down, tender and fragile output, we just love the transcendental vibe of Brazilian guitarist Fabiano do Nascimento. On "Ykytu", his most recent LP released through the wonderful people at Now-Again Records, Fabiano plays 10-string guitar, 7-string guitar, 6-string guitar, and soprano guitar. Here and there, he accompanies himself with vocals and effects. The result has an extremely soothing effect. It's like medicine. The good kind. Fabiano uses a Strimon Timeline pedal with only a few, select loops and overdubs. It is simple and beautiful, contemplative and healing. Again, this album is the result of this long pandemic. Fabiano was quarantined in Los Angeles and came up with these 12 little poems. Ykytu by the way means "wind" in the indigenous language of the Guarani.

There is a lot of typical Nightmares On Wax material on the new double LP "Shout Out! To Freedom…". Just listen to "Imagineering", with the help of Robin Taylor-Firth on keys, and a haunting string arrangement, and you are somewhat transported back to the trip hop, ambient, downtempo, dubby, leftfield and acid material we have come to love since their beginning in the early 90s. Other guests here are Wolfgang Haffner on drums, Shabaka Hutchings on sax, Sebastian Studnitzky on trumpet, and the wonderful, poignant vocals of Haile Supreme, who really shines on "Creator SOS". But it's a pretty mixed affair overall. I'm not really into the almost childish reggae-fied "Wikid Satellites" featuring vocalist Greentea Peng or the hip hop styled "Breathe In" featuring OSHUN.
I have seen a lot of praise for vocalist Melanie Charles and her new LP "Y'all Don't (Really) Care About Black Women". But other than a really brilliant version of "God Bless The Child", she uses original takes from albums by Sarah Vaughan, Marlena Shaw, Dinah Washington, or Ella Fitzgerald, and "reimagines" the tracks with her own vision. It doesn't work at all for me. Bad example: "I'm Beginning To See The Light", where she uses a stomping beat and whining keys, interpolating Ella's original and thus, totally destroying the track. Dinah Washington's "What A Difference A Day Made" is downgraded to a poor gimmick. I'm really puzzling over the intention behind this project. But what a great voice she has. Cries out for original material. I can't really find any coherence here. Maybe there is someone who starts digging deeper into the catalog of the artists involved. Out on vinyl on Verve.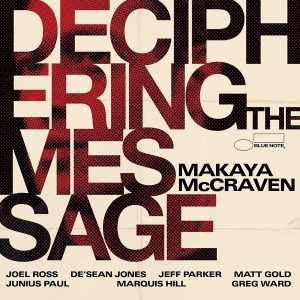 Much more satisfying is another remix album: drummer and producer Makaya McCraven has been crate-digging the Blue Note vaults and comes up with a really imaginative and superb collection of classics originally recorded by Horace Silver, Art Blakey, Kenny Burrell, Hank Mobley, or Eddie Gale. "Deciphering The Message" features performances by vibraphonist Joel Ross, trumpeter Marquis Hill, alto saxophonist Greg Ward, guitarists Matt Gold and Jeff Parker, bassist Junius Paul, and tenor saxophonist and flutist De'Sean Jones. Highlights include amazingly trippy versions of "Autumn In New York", which really is worth the trip alone with its superbly relaxed and uber cool vibe, or "When Your Lover Has Gone", equally fascinating and refreshing. Frank Strozier's "Frank's Tune" receives a slow-burning funky adaptation with a soulful beat. Kenny Dorham's "Sunset" is dope, too. Here is a very rare album intelligently combining original material with contemporary art in a deeply entertaining and unique way. Out on vinyl on Blue Note.
So where is the difference between these remix and re-imagined albums and the new Kenny G featuring "the Sound" of Stan Getz? This phrase alone should turn on every alarm clock. Kenny G is the American equivalent to Germany's Helene Fischer who is as unscrupulous as the saxophonist and records "duets" with the dead. What a crying shame this is. And artistically, this is not only a disgrace to the legacy of Mister Getz, but also an amazingly unmusical piece of shit. I can't believe that this has even found the way to the public. There is absolutely no connection between Stan Getz and Kenny G. His sinewy soprano, combined with washed-out keys and strings, is anything but unique and doesn't revere the legacy of sax maestro Getz at all. It is irreverent and lifeless. And that's the difference between this and the former records. Where's the artistry? Where's the skill? Where is the soul, the heart, and the mind? Is this really real? Gina left the room when she heard the creaking sounds coming out of the speakers. German journalist Andrian Kreye wrote in Süddeutsche Zeitung, that there is a "three-year jail sentence for disturbing the peace of the dead".
Finally, through Jordan Rakei's "Late Night Tales", I discovered Puma Blue (Jacob Allen from South East London) and his album "In Praise Of Shadows", which was released back in January on the London-based indie label Blue Flowers Music. It's available as a double LP as well and mixes Lo-Fi sounds with neo soul in such an effective way, with Jacob's voice equally breathy and vulnerable, at times excruciatingly balmy, exuding sweet bitter love. It's like Moonchild meets Maxwell. Pieces like "Sweet Dreams" or "Already Falling" send shivers. What a relief.
Puma Blue 2022 tour dates:
02/13 Copenhagen – Ideal Bar
02/14 Hamburg – Übel & Gefährlich, Turmzimmer
02/16 Berlin – Kantine am Berghain
02/17 Cologne – Jaki
02/18 Brussels – Ancienne Belgique
02/20 Amsterdam – Melkweg
02/21 Paris – La Boule Noire
02/24 Glasgow – King Tut's Wah Wah Hut
02/25 Leeds – Belgrave Music Hall & Canteen
02/26 Manchester – Gorilla
02/27 Nottingham – The Bodega
03/01 Bristol – Thekla
03/02 Brighton – Chalk
03/03 London – Electric Brixton
03/05 Dublin – The Grand Social