Cyrille Aimée – Let's Get Lost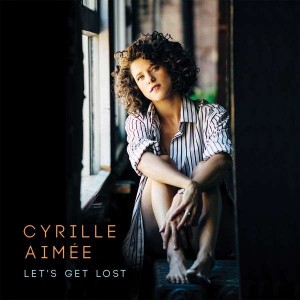 The French-born, Brooklyn-based Cyrille Aimée who has won the Montreux Vocal Jazz Competition back in 2007 and the Sarah Vaughan International Jazz Vocal Competition in 2012, was also a finalist at the Thelonious Monk International Vocal Jazz Competition in 2010, and now comes up with her new album "Let's Get Lost" which features four original tunes and numerous standards, French chanson, and a track by Juan Luis Guerra.
The easily recognizable Cyrille starts her new one with Stephen Sondheim's "Live Alone And Like It" which comes with a bluesy guitar accompaniment by Michael Valeanu before it becomes a veritable swinger. Her style, with hints of Kat Edmonson, Madeleine Peyroux, and a bit of Norah Jones, is underscored with sparse instrumentation and arrangements, usually pretty guitar-heavy, like on "There's A Lull In My Life", where not only Michael Valeanu, but also Adrien Moignard help to make this standard a pretty little ditty with an original drift towards the end. Her band is the same as on her debut Mack Avenue album "It's A Good Day" from 2014.
Flawless is her Guerra interpretation, except that I just don't like the song. But the folksy arrangement of "Lazy Afternoon" works much better for me. It becomes a hauntingly beautiful song in her version and with almost five minutes the longest track on the album. And even if her voice seems a bit croaked at times, it somehow fits the Gypsy Swing of "Three Little Words" and the title track, two short but effective choices, albeit the latter of which includes too much scat for my taste. Georges Moustaki's "T'Es Beau Tu Sais" is a nice one. She should do more French chansons. Suits her well.
So what about her original songs then? "Samois A Moi" was written together with Diego Figueiredo, another guitarist with whom I saw her just recently during New York's APAP showcases. A slow, cute little story. Simple and strong. "Nine More Minutes" doesn't have the same effect – it's a bit quirky and inconsistent. "Each Day", with guest vocals by Matt Simons, is a lively little pop song and "Words" really doesn't grab me. It feels uneasy and strange. Rounding out is a scat marathon on Oscar Pettiford's "Laverne Walk" and I just don't like scat at all – except when it's coming from Ella Fitzgerald. Whereas "That Old Feeling" with its excruciatingly slow texture and simple approach is more convincing. I missed something like "One Way Ticket" from her last album. That feverishly optimistic vibe of the tune. This is a pretty mixed affair.