Dick Hyman – The Age Of Electronicus
During a period when The Guardian asks if you should get rid of your CDs and a phenomenal resurgence in sales of vinyl nobody expected, I have come across dozens of reasons in the past month why CDs are dead. Three of those reasons for not hanging on to my CD collection: Number One: the oldest CDs in my collection, mostly from the early 90s but in some individual cases from the mid 90s, too, are simply worn out and technically kaputt. Don't blame it on my CD player that those discs are not playable anymore – I have checked them on other CD players too and no, they won't play all of the tracks without cracks or skips. Number Two: I'm grateful for all those review copies coming in over the years, but it is much easier for me to simply download mp3 files and read through the press sheet than trying to decipher everything through a reading-glass on the usually absurd-looking graphics of modern-day CDs. If I really dig one of those albums, I always try to catch a copy on vinyl. And finally, number Three and the argument most people come up with and what I think is really the most important reason pro vinyl: the sound. Example: "The Age Of Electronicus" by Dick Hyman. Agreed, this album has never seen the light of day in CD format so there is no real comparison, but I just can't imagine this avantgarde-heavy Moog monster would sound even slightly as whole and sumptuous than on vinyl.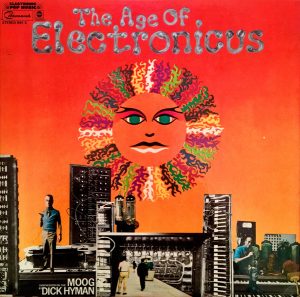 Just re-released on Pleasure For Music, pianist and composer Hyman, who has worked with Teddy Wilson, Red Norvo, and Benny Goodman, and who has recorded the music of 1937 for the Maybeck Recital Hall Series on Concord Records in 1990 (just a tiny little spot of his vast discography), experimented with a Baldwin electronic harpsichord, a Maestro Rhythmaster, and all kinds of sounds and synthesizers as early as 1969. This is an amalgamation of hippie culture and avantgarde, spiced up with live drums on the tunes of the day, like two Beatles songs ("Blackbird" and "Ob-La-Di, Ob-La-Da"), "Aquarius", or "Alfie". The latter sounds as if it were recorded under water, full of exotic, mystical synths and simply transporting you to a whole new world. Hard on the brink of sounding too hilarious, Dick Hyman always understands that the synthesizer "is not about to replace any instrument or orchestra", but "when the synthesizer is used to create its own thing, the new aural events are remarkable for both the player-arranger and the listener."
The mixture of cartoon-like music, a quasi-bagpiper, nineteenth century music, a honky-tonk piano and what Hyman describes as a Wagnerian finale in the liner notes, on Joni Mitchell's "Both Sides Now", is both upsetting and fascinating at the same time. Upsetting because you think this version is almost blasphemous. Fascinating because Hyman creates a totally new setting. Amazing stuff. Not to be consumed on CD or streaming device.