Gina @Berlinale: Howard, Alton , Jonathan and Europe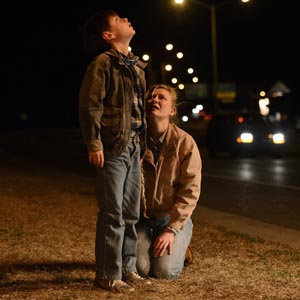 On Friday, "Midnight Special" by Jeff Nichols had its premiere at this year's Berlinale. Alton is a child with extraordinary abilities who has to wear special glasses. He can only live at night. His father tries to protect him from a religious cult in a US province town and at the same time from the CIA, FBI, and NSA. And this is where the hunting and the road movie begins. And even though the film is shot mostly at night and surprises with a lot of immensely intensive imagery and patterns and has a wonderful Kirsten Dunst playing Alton's mother, both sick with sorrow and understanding at the same time, the story is ruined towards the end by an absurd scene where a spaceship is landing to pick up the boy and where sweet little aliens await him.
In the Panorama section, young farmer Jonathan is taking care of his father who is dying of cancer. Piotr J. Lewandowski tells the story of a family who turns out to be pretty kaputt. There is the father's schnaps-loving sister, also working on the farm and hiding something from the family history, there is the nurse who is supposed to help Jonathan and who is having an affair with him, and there is the former boyfriend of his father who was the reason why the marriage didn't last and why Jonathan's mother killed herself. Realizing that his father was gay and couldn't really talk about it all his life, Jonathan is starting to slowly but surely open up to new and alternative ways of living one's life. I did have some problems with the way some of the roles were laid out; like it seems that André Hennicke, playing the dying father, is coming from the theater where you put more emphasis and drama into your figure. Some of the phrases and stories in his monologue and dialogues sounded so constructed and overblown where I thought that nobody would ever talk like this. But it is a beautiful and sweet film.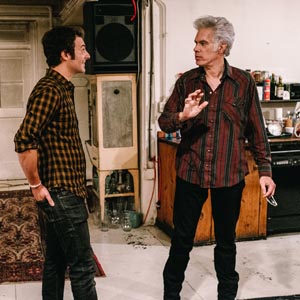 The Panorama documentary section had "Uncle Howard" showing on Friday evening. This time, not a father-and-son story, but a father-and-uncle. Aaron Brookner is trying to preserve the archive of his uncle Howard, who was a documentary film maker in the 80s, portraying Williams S. Burroughs, among others. Howard died of AIDS at age 34 in the late 80s and Aaron findds this huge archive of material that nobody has seen up to this day and that was shelved. So we get a fantastic glimpse into the work of Howard with a lot of original footage, interviews with Jim Jarmusch who was on the scene back then and accompanies Aaron today to check out what the archive has to offer. We get to see Andy Warhol, John Waters, and of course Burroughs in a derelict 80s New York (downtown and the Bowery). An important document, not only in terms of what Brookner achieved with his documentary of the 70s and 80s cultural revolution in the New York punk and beatnik and gay scene, but also in making aware how devastating the AIDS crisis had been during that time.
Another documentary, and a pretty disturbing one, is Jan Gassmann's "Europe, She Loves" about four couples in Sevilla, Dublin, Tallinn, and Thessaloniki trying to cope with their lives. Disturbing because three of the four couples are taking heavy drugs and you think about a bright and prosperous future in Europe. But then again, what did you do in your early-to-mid 20s? We get an interesting glimpse into what's going on in the minds and heads of young Europeans. This is crying out for a part two!