Nancy Wilson, the Singer's Singer, 1937-2018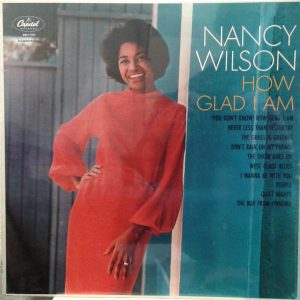 It could be the pop songs of the day, a veritable jazz standard, or a classy soul tune, whatever Nancy Wilson touched, became angelic. After almost 60 years in the business and dozens and dozens of timeless recordings, she left this world yesterday at age 81 after a long illness. She died at her home in Pioneertown, a community near Joshua Tree Park. Rest In Paradise Miss Nancy.
We're spending the day listening to her artistry, always with a smile and with the highest esteem regarding her vast amount of albums. My favorite song? There are hundreds, but I always come back to a tune she recorded for a Stephen Sondheim project in 1993. From the first notes of "Loving You", from Sondheim's "Passion", which, as Sondheim told The New York Times in an interview in 1996, "is about how the force of somebody's feelings for you can crack you open and how it is the life force in a deadened world", it's clear that here's a true song stylist, a master at work. After Brad Mehldau's tender opening piano chords, Nancy almost always puts me to tears with her intimate yet strong, caressing yet self-assuring "Loving you is not a choice, it's who I am." Her buoyant vibrato she puts to the tiny little word "am" is all-embracing. "Loving you is not a choice and not much reason to rejoice/But it gives me purpose, gives me voice to say to the world: this is why I live, you are why I live". She slowly moves from a depressing, dark feeling to hope and optimism in just one sentence, with a diction and persuasiveness and strength that is unheard-of. Christian McBride on bass and Brian Blade on drums accompany stylishly and with a much needed understatement and Peabo Bryson, her duet partner on this track, also gives a stellar performance.
"Moon River", from her 1963 "Hollywood – My Way" LP, is brimming with joy with a superb arrangement from Jimmy Jones. Nancy Wilson epitomized elegance, in song too. Just check out the Gene McDaniels/Mike Melvoin tune "Melody Is You" from her 1989 LP "A Lady With A Song". Sheer class. "Son Of A Preacher Man", from her 1969 LP of the same name, was part of my DJ sets for many years. The first LP I got my hands on was "How Glad I Am" (1964) which included the unbelievably sassy "I Wanna Be With You", written by Charles Strouse and Lee Adams. Her signature sigh was starting to become one of her trademarks. "When I Look In Your Eyes", from the 1968 "Easy", is heartbreaking. "Mercy Mercy Mercy", arranged by Billy May on the 1967 "Just For Now", is brutally funky, and "Call Me", from the 1966 "A Touch Of Today", is delightfully swinging. The disco-soul of "Boogeyin' All The Way" (written by Gene and Billy Page) from the 1975 LP "Come Get To This" is sexy, sultry, uber cool. She also recorded a most beautiful album with music by Barry Manilow and lyrics by Johnny Mercer in 1991 and her last album in 2006, "Turned To Blue", is still amazingly strong (a gorgeous "I'll Be Seeing You" with Billy Taylor).
She once told The Washington Post that she considered herself  "a song stylist"."That's my essence, to weave words, to be dramatic."