Joyce with Mauricio Maestro – Natureza
Amazing stuff on here. In 1977, Joyce Moreno recorded this album at Columbia Studios in New York, complete with brilliant jazz arrangements by the legendary Claus Ogerman and with the help of a stellar cast of American musicians, like Buster Williams, Michael Brecker, Mike Mainieri, and Joe Farrell. 45 years later, the album gets its first full release ever. Joyce had to return to Brazil after completing the album and she remembers: "I returned home, but Claus and I remained in contact, by letters and phone calls. He was very enthusiastic about the album and tried to hook me up with Michael Franks. He wanted me to go back to NYC in order to re-record the vocals in English with new lyrics, which I actually wasn't too happy about. But then I got pregnant with my third child and could not leave Brazil. And little by little our contact became rare, until I lost track of him completely. And that was it. I never heard from him again." Joyce continued recording for various Brazilian labels until she was signed by Verve Forecast and released "Music Inside" back in 1990. She started her fruitful and successful career with the wonderful Far Out label in the late 90s and Far Out is now responsible for letting this classic see the light of day.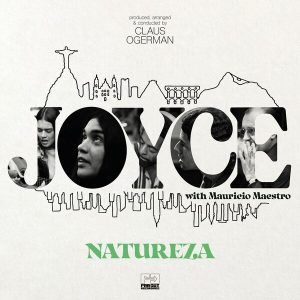 Clocking in at over 11 minutes, the album opener "Feminina" sets a vibrant mood and interestingly, it doesn't feel like 11 minutes, but it just floats by intensely and lively, with uber cool solos from Joe and Mike. It is a conversation between a mother and her daughter about what it means to be a woman and was later recorded on her 1980 LP of the same name, albeit in a much shorter version. There is so much beauty in the midtempo tune "Moreno", dedicated to her husband, drummer Tutty Moreno, who plays on the album too as is percussionist Nana Vasconcelos, whose work is formidable throughout.
It is strange that she never received the international recognition she deserved, even though she was dubbed one of the greatest singers by Antonio Carlos Jobim. This landmark album has two tracks mixed by the engineering king Al Schmitt, and the remaining tracks come over unmixed. But still, tracks like "Coração Sonhador", sung by Mauricio Maestro, sound good enough to enjoy. The second Schmitt-mixed track apart from the opener is "Descompassadamente" which features a wonderful flute solo by Joe Farrell. A really hypnotic track. Add to this the slow bossa groove of "Mistérios", another beauty only Joyce seems to be capable of producing. Here, you can hear the difference in the mixes, though. But still, her voice shines like an angel and Mike Mainieri's vibes solo is a thrill.
There is enough drama and suspense on the Mauricio-sung "Ciclo Da Vida", where Michael Brecker's unmixed solo at first sounds a bit off, but then again come on it is Michael! The album concludes with the upbeat and vibrant "Pega Leve", indicating Joyce's voice and singing as one of the greatest pleasures in music. Kudos to the folks at Far Out for getting this out.
Vinyl and CD will be released on October 28th.