Lizz Wright – the Consummate Singer in Berlin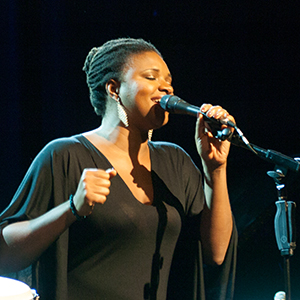 Singer Lizz Wright waited until the third song last night at Neukölln's Heimathafen before she started to feature a song from her recently-released new album, "Freedom & Surrender". As if she wanted to make sure that the audience recalled her signature, thick and dark and powerful vocals. So after her "Old Man" interpretation, one of the songs in her repertoire that goes as far back as 2005 and her acclaimed album "Dreaming Wide Awake", she easily shifted to her new, slightly more uptempo material like "The New Game" and "Freedom".
Dressed in a simple black gown, Lizz stayed true though to her gospel/folk/jazz/soul sound where songs like the Nick Drake classic "River Man" easily fitted in. She stretched out on new pieces like the beautiful "Real Life Painting", written with Maia Sharp, and excelled with majestic fervor on "Somewhere Down The Mystic".
Her stage persona easily reflects a singer at peace with herself, shining brightly and exuding warmth and ingenuity when she delves into "Lean In", a song from the new album co-written with Jesse Harris and her producer Larry Klein. I do not think though that there is anything to add to the Ewan MacColl classic "The First Time Ever I Saw Your Face". Roberta Flack said it all back in 1969. And hers still is the definitive version.
After almost exactly one hour, Lizz left the stage leaving her tight band to play the final notes – she came back with an a capella version of "The Nearness Of You" and her take on the Bee Gees' "To Love Somebody". Lizz continues her European tour in Hamburg, Laeiszhalle tonight and then travels to Zurich (29th), Paris (30th), and London (31st). She has two more dates at the Blue Note in Tokyo on November 14th and 15th.