Marcus Miller in Berlin: From Senegal to Brazil to Motown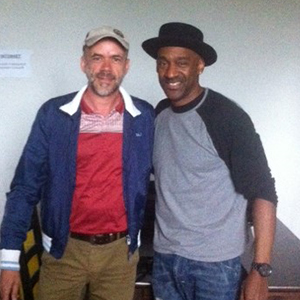 Marcus Miller is wrapping up his first part of his European tour in Amsterdam tonight. He'll be back over here for the festival season at the end of June with performances at Northsea Jazz or Jazz Open in Stuttgart. Yesterday, he played Berlin's Postbahnhof. Earlier that day, I had the chance to talk to him (the interview will be published here soon) and brought his first two solo albums to the interview ("Suddenly" from 1983 and "Marcus Miller" from 1984). It is still hard to believe that it's more than 30 years now since his work with Luther Vandross, Aretha Franklin, or his first solo projects. But more on that in a later feature.
His new 7-piece band started with the opening track of his new album "Afrodeezia", "Hylife", where both saxophonist Alex Han and trumpeter Lee Hogans had their first of many roaring solo spots. Young keyboarder Brett Williams has soaked up a lot of 70s Soul/Funk/Jazz albums. His work was truly amazing and steeped in the glorious days of all the Moogs and Rhodes. Marcus told me that he asked Alex to put together a band for this next endeavor in the Marcus Miller chapter so he also brought the versatile guitarist Adam Agati to the group.
Agati played a mean Wah Wah on the Temptations classic "Papa Was A Rolling Stone" which, together with the masterful work of legendary percussionist Mino Cinelu (who worked with Marcus in Miles Davis' band), transformed this classic into a veritable Funk and Soul jam.
Those two tracks and another African-influenced tune from the album, "B's River", and the first good half hour was over. But of course there was a lot more: the Calypso jam of "Son Of Macbeth" for example which features sizzling steel pans on the album (also see review on these pages) and was a perfect moment for drummer Louis Cato to show what he's got. And the Brazilian-flavored "We Were There", a collaboration with the great Djavan, was another funked-up jam in dedication to the late great George Duke and brought back memories of the legendary keyboarder's 1980 classic album "Brazilian Love Affair".
Marcus also played a track from his 2012 album "Renaissance", the only song which brought the consistently uptempo show down to a slower pace: he switched to baritone saxophone on the haunting "Gorée", a song that was inspired by a visit of the House of Slaves which was built in 1776 on Goree Island off the coast of Dakar, Senegal (Roy Ayers also recorded a song about it for his 1984 LP "In The Dark").