Maurice White Autobiography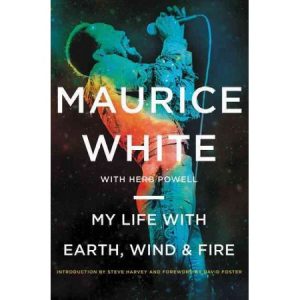 The book I'm currently reading is "My Life with Earth, Wind & Fire". Founding member Maurice White's autobiography was published in September and written with Herb Powell. I'm still in the early years of his life when he was working as a drummer, long before Maurice started his groundbreaking, award-winning supergroup. Maurice White died much too soon earlier this year on February 3rd.
It is interesting to read about his passion for Jazz in his formative years when he was making music with Booker T. Jones and Richard Shann: "I was excited to discover jazz. Icons like Miles Davis, Thelonious Monk, and John Coltrane blew our young, fertile minds…Shann was the first to turn me on to Art Blakey, Roy Haynes, Max Roach, and the one and only Elvin Jones – the top drummers in jazz, bar none".
Maurice, who was called Sandy at the time (his nickname because of his blond hair and fair skin), would soon be a sought-after drummer for the famous Chess Records and he also played on the Billboard Hot 100 hit record "You're No Good" by Betty Everett (1963). The biggest hit he played drums on was certainly "Rescue Me" by Fontella Bass (1965): "After the rhythm section had our names on that hit, we were wanted everywhere."
Since Maurice was the go-to drummer around that period in Chicago, a certain Ramsey Lewis wanted to work with him in his trio. That's chapter 5 – I'm starting that tonight.