Meshell Ndegeocello – The Omnichord Real Book
It is really hard to believe that 30 years have gone by since Berlin-born Meshell Ndegeocello's debut album "Plantation Lullabies" which quickly became something like a hymn in our circles back in the day. Who couldn't relate to "If That's Your Boyfriend (He Wasn't Last Night)". And then five years have also gone by since her last album of cover songs, the brilliant "Ventriloquism". Meshell is now back with her first album for Blue Note Records. She has worked with the label in the past, on records with Robert Glasper and Jason Moran. But this is her first under her own name. 18 new, original tracks with a lot of guest artists spread out over two LPs. Multi-instrumentalist Josh Johnson produced the album and is featured on the quirky, lively opener "Georgia Ave".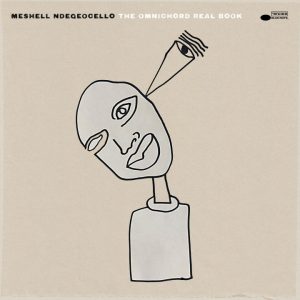 A lot of electronica and mysticism and awe ("I Feel I've Lost My Way") continues on "An Invitation". Her voice stays dark and moody on the acoustic "Call The Tune" where she repeats the phrase "Everything Is Under Control" as if to soothe and heal us. She puts some ethereal vocal layers underneath. "Good Good" is a wonderful collaboration of folksy roots and jazzy chords. It features Jade Hicks. I really like the drive and character of the percussive, guitar-led instrumental "Omnipuss". "Clear Water", one of four tracks which had been released over the last couple of weeks, features avantgarde drummer Deantoni Parks, jazz and post-rock guitarist Jeff Parker, and interdisciplinary artist Sanford Biggers. It's like a mixture of Parliament/Funkadelic psyched-out stuff combined with jam session contributions.
Amp Fiddler co-wrote "ASR", another Jeff Parker-featured jam about times gone by ("Can't Get Back The Time I Wasted On You"). Its melancholy and experimentalism is hard to resist. Great vocals by Abe Rounds too. Clearly one of the album's highlights. On the beautiful ballad "Gatsby", Meshell is joined by Joan As Police Woman on vocals and Cory Henry playing some sensuous piano. We also get Jason Moran on an interlude-like piece called "Perceptions" and the album's longest track, "Virgo", features Brandee Younger on harp and Julius Rodriguez on organ. It's a pretty hypnotic tune with chant-like vocals and an irresistible groove. Ambrose Akinmusire graces the spacey "Burn Progression" with his eerie trumpet playing. The piece once again has some burning percussion and vocal work. South African singer Thadiswa Mazwai can be heard on the hard-driving "Vuma". And on "Hole In The Bucket", Meshell explores some experimental Gospel roots, with lead vocals by Justin Hicks. This vast collection closes out with a take on "Virgo", featuring an Oliver Lake adaptation.