Pop Bliss in Neukölln: Rumer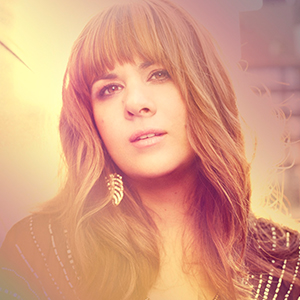 There were many moments during singer Rumer's show on Thursday night at Neukölln's Heimathafen where I was wondering if this voice was really coming from a human being. She sings like an angel, crystal-clear, with perfect pitch and flawless intonation and she writes songs in timeless and majestic Burt Bacharach style.
Rumer is currently on tour supporting her new album "Into Colour" from which she was singing almost all of the songs starting with the only uptempo song of the evening, the little dance jewel "Dangerous", including her signature Karen Carpenter-like intro. Backed by a five-piece band with musical director Rob Shirakbari who also produced, arranged and conducted the album, she took us on a wing, soothing and caressing with heartbreakingly beautiful songs like "Reach Out" (which could have come right out of the Bacharach pen) or the hopelessly optimistic "You Just Don't Know People". For most of the 80-minute set, the (little) hair on my arms was standing up and I was clinging to every word. There's no better love song than the blissful "Baby, Come Back To Bed". Her plea to support the street musicians out there makes you want to go to the next subway station and hail them ("Play Your Guitar").
There were some Dionne Warwick moments of course ("Sam") and one of the most perfect pop songs I have heard in a long time: "Pizza And Pinball" takes you back to a carefree childhood complete with playing ball and jacks, riding bike and "looking for worms near a fishing hole".
She added several songs from her other albums as well, such as the seldom heard Jimmy Webb ode "P.F. Sloan" from her "Boys Don't Cry" album and a few from her debut album "Seasons Of My Soul": the catchy "Am I Forgiven", her wonderfully nostalgic "Aretha", or the unbelievably cozy "Slow". Rumer also included a song from her guest appearance on Daryl Hall's web show "Live From Daryl's House", her exquisite version of the Hall & Oates classic "I Can't Go For That". "I Am Blessed" is the closing track of her latest album and blessed she is indeed. With an outstanding talent sending us out into the cold Neukölln night feeling a little blessed as well.
You've got to hear it to believe it: Deutschlandradio Kultur is broadcasting this delicious concert on April 20th at 7pm.
She also stopped by Deutschlandradio Kultur for an interview:www.deutschlandradiokultur.de
Also, if you're anywhere near, don't miss her upcoming shows:
3/13 Zurich, Kaufleuten
3/14 Munich, Ampere