Reynold and Hyperactive Kid at XJAZZ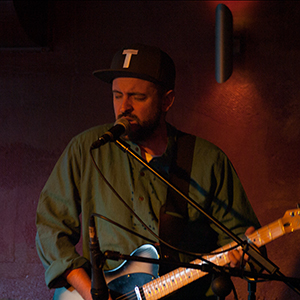 Sun slowly setting, trains of the U1 subway constantly moving into the Kottbusser Tor station, cold beer flowing, and some warm electronic, housey Jazz tracks coming from the stage of Kreuzberg's Monarch club early Thursday evening where Samuel Rouanet opened his 50-minute set together with Anthony Malka. XJAZZ 2015 has arrived.
Sam's latest project is called Reynold. The French-born guitarist, DJ, and producer is also playing guitar in a band with his father and is an ambassador for spreading electronic music further around. The set was brilliantly mastered by keyboardist Malka who used loops and sequences for extra layers on a Moog keyboard and together, they explored some wicked Electro, House, and early 80s Soul/Funk sounds guaranteed for a splendid club atmosphere. I had the chance to talk to Anthony after the set and no wonder he's a big fan of Roy Ayers, Marcos Valle, or 70s Stevie Wonder. His ideas on stage were designed to create an especially soulful and enigmatic mood. The Reynold experience was a perfect, well-rounded and pleasantly deep affair.
The stage at Monarch is so small that the next three guys moved further into the audience: Hyperactive Kid is the name of the group of saxophonist Philipp Gropper, guitarist Ronny Graupe, and drummer Christian Lillinger. Together, they have worked in this constellation since about 2003. Graupe and Lillinger are also members of one of Rolf Kühn's groups. The name of the group is well-chosen; all three are always on the lookout for the next little twist and turn, they gravitate towards some free and open space only to find themselves together in some unforeseen landscape. Their free improv excursions were always entertaining and relatively short because one of them usually came up with a new idea and a new thread. The most hyperactive seemed to be Lillinger whose energy was thrilling, waiting for an outburst which then suddenly came from one of the other band members. Graupe played some Frisell-like, liberating solos and Gropper's tone and twang was unfractured and moving.