Albums Not On Spotify, Vol. 3: Stephanie Mills – For The First Time
In these uncertain times, it's always a good thing to fall back on household names, to old habits, to vinyl, to Stephanie Mills who turns 63 today. Happy birthday! And I wanted to take this opportunity and remind you of another album in our new category of LPs you won't find on Spotify.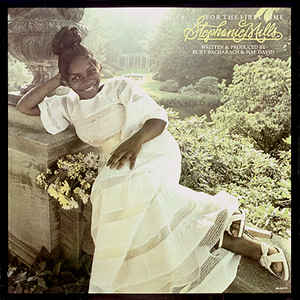 Stephanie recorded an album of ten songs written and produced by Burt Bacharach and Hal David in 1975 called "For The First Time". It was her second full-length LP and came out on Motown Records. And no, the songs on the album are not a reflection of the incredibly hit-stricken duo's 60s songs, mostly made famous by Dionne Warwick, but they were all new songs, especially written for this project, except two songs already recorded by Dionne. They also re-united for this album before they split again for many years. There are the typical socio-critical pieces like "Living On Plastic", but also the much-loved and adored optimistic love songs like "If You Can Learn How To Cry" as well as the melancholic attitude on "No One Remembers My Name" with deep and rueful lyrics: "The past is just a memory/I belong where people smile back at me/They know me and show me they care/That's why I'm so happy there/They all remember my name…"
And even though Stephanie was only 18 years old at the time of the recording, her voice sounds fascinatingly mature and already has this unique colorization and its incredible thickness that she still maintains to this day. One cut on the album almost veers toward disco ("This Empty Place"), arranged by Kenny Asher, but I think the slow and midtempo pieces suit her best. There is an almost country-meets-folk like attitude on "The Way I Feel About You", complete with the typical Bacharach harmonization und unusual chords that we have come to admire so much. When I put the album on this morning, my partner immediately asked me if it's Diana Ross. Their voices during the mid 70s were already different of course, but there are certain dispositions in style which warrant a comparison like this.
I really like "All The Way To Paradise" with Stephanie completely in control and yet, spreading hope and joy over the soulful and dramatic arrangement. And "Please Let Go", with its somehow hopelessly romantic backing vocals, concludes this amazing album which, even though masterminded by two of the most prolific songwriters, arrangers, and producers, and even though it was recorded by the great Phil Ramone and starred an exquisitely extraordinary voice, disappeared without a trace.