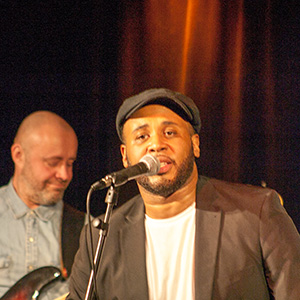 Stevie Wonder is a big fan of Tony's. He especially likes his version of "Golden Lady". No wonder that it was one of the real showstoppers last night during Tony's two brilliant sets at Berlin's A-Trane. He also squeezed in a little bit of "Isn't She Lovely".
Tony Momrelle is the lead singer of British Jazz/Funk/Soul group Incognito since 2001. He has also successfully backed up Sade, Janet Jackson, or Gloria Estefan. His warm, smooth, honeyglazed voice is his priceless trademark and naturally caresses soul standards like Al Green's "Let's Stay Together", Marvin Gaye's "What's Going On" or The Beatles' "Yesterday". But those classics were saved for the second set. In the first one, he introduced his new songs to be released for his next solo record which is scheduled for June. The album promises to be something like another new Incognito album if I may say so. I just can't help making comparisons to front man Bluey's ensemble simply because Tony is the main voice behind it. The set was brimmed with quality soul and finest vocals – backed by an incredible band.
I had the chance to talk to Tony briefly between sets and he is currently finishing up his new record between going on the road with Incognito and his own little tour which brought him over to Münster and Berlin over here in Germany and then on to France. He will be in Japan in early March and will also play the Singapore Jazz Festival with Incognito and special guest Chaka Khan. Longtime band singer Maysa will join the group for select dates in the US. And Incognito will be back in Germany for the Jazzfestival in Burghausen where they perform on March 20th.