Cécile McLorin Salvant – Ghost Song
An album about ghosts, desire, and nostalgia. That's singer Cécile McLorin Salvant's latest and first for the Warner label Nonesuch Records, to be released this Friday. On vinyl too! "Ghost Song" features seven new compositions and five surprising interpretations of well-known, and not so well-known songs. There is amazing variety on this, clearly her best work to date. She puts so much variation and texture into the opening track of the album, a fantastic re-work of Kate Bush's classic "Wuthering Heights". "Texture is a big part of how I sing, having multiple textures in one song. I can't allow myself to stay in one texture. It's something I like, even when I'm eating. You want the creamy and chewy and crunchy at the same time. Warm and cold."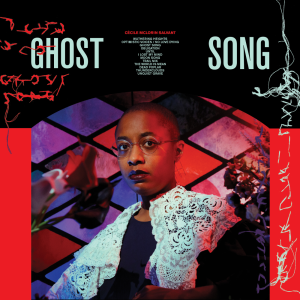 That's exactly what you find on her pairing of the Harold Arlen classic "Optimistic Voices" (from "The Wizard of Oz") with Gregory Porter's "No Love Dying". The happy-go-lucky of the former is not really your typical match with the nostalgic stance of the latter. But it works well, not alone thanks to the warm flute playing of Alexa Tarantino and the brilliant piano work of Sullivan Fortner. She has created a new classic with the Gospel-tinged title track, which includes some wonderful Rhodes playing by Sullivan and a pretty bluesy guitar courtesy of Marvin Sewell. Cécile's vocals are sublime, carrying the track to highest heights, aided by the Brooklyn Youth Chorus.
"Obligation" works a bit more like an interlude, albeit a pretty fierce and substantial one, before she turns to an equally determined version of Sting's "Until", once again with strong flute work by Alexa and amazing piano by Sullivan, and also featuring some banjo playing by James Chirillo. Pretty amazing stuff. And not simply a cover version, but a completely new and innovative interpreation. I really like "I Lost My Mind" where she sings "Here Am I, Lounging On The Sands Of My Hourglass Watching The Time Drip", with layered vocals and dramatic pipe organ played by Aaron Diehl. She cries for help asking "Can You Help Me Find My Mind?" She turns tender and smooth on her own "Moon Song", where she shows her wonderful versatility in her voice and vocal abilities, including her warm and soothing vibrato.
How fitting is her Kurt Weill/Berthold Brecht version of "The World Is Mean". And how utterly romantic her interpretation of the lyrics from a letter from Alfred Stieglitz, the modern art promoter, to Georgia O'Keeffe on "Dead Poplar". Her own "Thunderclouds" sounds like a mix between Abbey Lincoln and Norah Jones, one of the highlights of the set with her wise words "Sometimes You Have To Gaze Into A Well To See The Sky". She concludes with her vocal solo version of the beautiful folk traditional "Unquiet Grave", where a man mourns his dead love too severely, making her plea at least as compelling and convincing as Joan Baez did on her 1965 LP.
Cécile plays about a dozen concerts in Europe in March, with shows in Germany in Cologne (March 18th, Philharmonie) and Waiblingen (March 17th, Bürgerzentrum).