'Tis The Season – A Christmas Roundup
Are you listening to the same old Christmas songs again? Even though I have to admit that I return to the tried and tested Xmas records year after year (Herb Alpert, Bert Kaempfert, Erin Bode, Rosemary Clooney, June Christy, Peggy Lee, George Shearing, etc), it is always refreshing and highly appreciated to receive original songs which have a holiday theme to it, best example is last year's brilliant pop piece "Have A Very Merry Christmas" by Ralph Johnson featuring Siedah Garrett. This year, there is a most wonderful, soulful ballad by Avery Sunshine: her self-written "Never Knew Christmas" is one of those classy Christmas love songs that will certainly comfort us in the years to come.
The late, great Joe Sample teamed up with singer India.Arie for their "Christmas With Friends" album. The album boasts with a lot of special guests, like singer Brandy  on "Silent Night", Kem on a stylish "Have Yourself A Merry Little Christmas", and Trombone Shorty on a rousing "I've Got My Love To Keep Me Warm". My personal highlight is the glitzy kitsch of "Mary Did You Know" which features Gene Moore Jr. on majestic vocals. Michael McDonald is also on board: the bluesy "Merry Christmas Baby" shows too much effort and pomp, though. And Michael seems to be omni-present this year at Christmas again: Swedish singer Andreas Aleman features him on the grooving original "Celebrate The Season" from his 2014 CD "Home For Christmas".
If you're more in a dance party mood on Christmas, check out Sharon Jones & The Dap-Kings and their new effort "It's A Holiday Soul Party" which has a lot of uptempo groovers and shakers. It's a fun album with lots of funky twists and turns and wins over with a smashing, grandiose  "Silver Bells". R&B group Mint Condition are back with a solid seasonal album and the great voice of Stokley Williams. Included are a few original cuts, like the immensely soulful "1st Snowfall" and its cute vocal arrangement.
The latest installment of The Count Basie Orchestra, now under the leadership of Scotty Barnhart, is classic big band swing with the obligatory guest vocalists: both Johnny Mathis (a fine "It's The Holiday Season") and Ledisi (very standard "The Christmas Song") deliver the goods and Carmen Bradford wins over with her "I'll Be Home For Christmas". Singer Ann Hampton Callaway has released her second Christmas album. "The Hope Of Christmas" features the lyrics of William Schermerhorn so you won't be treated to all the well-known Xmas fare. This is a really refreshing collection with a lot of special guests like Hubert Laws, Five Play, or the New York Voices and it includes typical Ann-tastic humor in "Santa Doesn't Like Me".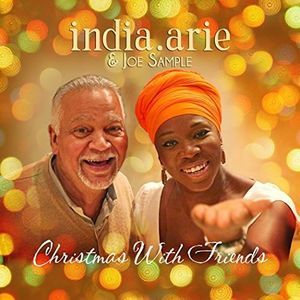 Also out with her second Christmas album is Jane Monheit. Well, not really since "Believe" is rather the product of pianist David Benoit and features Jane and the 100+-strong All-American Boys Chorus adding little spice here and there. Jane sounds wonderfully matured and convincing and "Just Like Me" is delivered with lots of grace and charm.
Singer Kenya, who released her new album "My Own Skin" earlier this year (review on these pages) has added an ultra sexy arrangement to "Little Drummer Boy", the only seasonal song that I can't really listen to anymore. Except to this fantastic version.
A left-over record from two years ago is "The Spirit Of Christmas" by tenor saxophonist Pee Wee Ellis who recorded his album in Cologne with his longtime partner Fred Wesley and also with Jason Rebello and Tony Remy, among many others. Included here as well is a quartet of diverse vocalists, each contributing in his or her explicitly individual style, like Peter Fessler on the Wham classic "Last Christmas" which is still simply too repetitive, a gospelly Lillian Boutté with a dazzling "Christmas In New Orleans", Lisa Bassenge on a festive "Silent Night" and my favorite on this set, Clare Teal singing a straight-up "Have Yourself A Merry Little Christmas" with verve and the right amount of passion.
I've already mentioned Barbara Dennerlein and her latest Xmas record on MPS here and there is also a cheering version of "Wonderful Christmastime" on the latest John Pizzarelli album where he does the songs of Paul Mccartney and there is lots more this year, but those mentioned above are worth a listen or two if you ask me. So have yourself a merry little Christmas now.